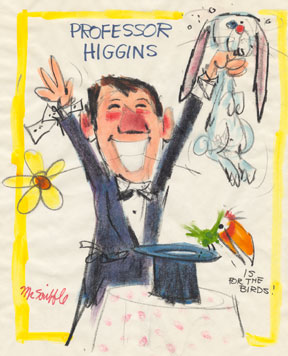 Home
Magical Services
Magic for Children and Adults
Clients
Quotes
Public Appearances
Magic Products for Magicians
Photo Gallery
Magic Links
Junior Magicians Club
FAMILY ENTERTAINMENT
MAGIC FOR CHILDREN AND FAMILIES: Professor Higgins specializes in making children laugh! His magic "wows" the children and at the same time they are laughing at the zany antics. He uses many of the children as helpers where the children have the magic happen in their hands. He wants the helpers to feel special about their participation without being embarrassed. He is a big hit at birthday parties, where the birthday child is the star of the show.

SPECIAL CUB SCOUT SHOW!: Cub Scouts love Magic! Using his experience as an Eagle Scout and former Cubmaster and Pack Committee Chairman, he understands the need to entertain Cubs on a limited budget. This special magic show is just for Cub Scouts and their families. It features lots of fun, amazing magic and entertainment incorporates basic Cub Scout themes and values, involves the Cubs in the show, without embarrassing the helpers. The show's Amazin' and Amuzin' audience participation will be the perfect finale for your Blue and Gold night or for any Pack Meeting. It is reasonably priced for an excellent value to the Pack. This special show runs about 35 minutes and can be tailored to meet your needs. Just ask the leaders of Packs 1, 6, 24, 25, 27, 34, 67, 68, 70, 94, 99, 146, 223, 224, 225, 226, 252, 256, 264, 318, 346, 386, 505, 509, and 2000, who have had Professor Higgins perform for them during the past ten years.

MAGIC FOR ADULTS: Everyday objects vanish before your eyes. Coins, balls, and playing cards take on extraordinary properties as the Professor seemingly defies the laws of physics with his up close and personal magic. People are able to be just inches away from the action. But the closer they look, the less they see. The adult Stage and Cabaret type shows feature "guests" from the audience to help perform the miracles and join in the laughter, yet without being embarrassed. As an M.B.A, he can incorporate within his performances special business messages and themes. Shows are customized to meet the needs of the client and can be performed at banquets, parties, reunions, social events, church functions, intimate gatherings in private homes and business meetings. Rates vary with the options selected. All the magic is done without embarrassing the volunteers, and is tasteful and refined.