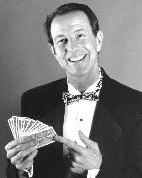 Home
Magical Services
Magic for Children and Adults
Clients
Quotes
Public Appearances
Magic Products for Magicians
Photo Gallery
Magic Links
Junior Magicians Club
WHAT THEY ARE SAYING ABOUT PROFESSOR HIGGINS' MAGIC:

"Thank you again for a wonderful show! The children enjoyed it very much... It is always great to have you perform at The Broadmoor." Jessica Callan, Assistant Concierge, The Broadmoor Hotel Resort.

"We are so glad to have your wonderful magic as part of this year's Children's Holiday Magic Event! Thank you..." Meg Poole, Activities Director, The Colorado Springs Pioneer Museum

"Thank you for the great entertainment! I'm looking forward to next year" Gay O'Rourke, Memorial Hospital

"Wow! Did you ever dazzle everyone in the IHN program with your magic!" Sue Badgett, Interfaith Hospitality Network

"Thanks Professor Higgins for the great performance at Noah's party... he still puts on his hat and makes the dog disappear with his wand. He will NEVER forget all your magic tricks. THANK YOU!" Diane G., Noah's mom

"Thanks for your great work. Our Pikes Peak Sertoma Oktoberfest was very successful!" Steve Rempelos, Pikes Peak Sertoma

"...Thanks again for making a little girl's party so special." Anita L.

"WHOA, do that again." Billy, age 11

"Mister, you really are MAGIC!" Connie, Age 6

SOME FINAL WORDS:
An elderly lady was overheard saying after one of Professor Higgins' shows, "He is the funniest magician on the planet and the most amazing magician I have ever seen!"

Now if you can't believe his own mother, who can you believe???