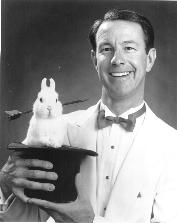 Home
Magical Services
Magic for Children and Adults
Clients
Quotes
Public Appearances
Magic Products for Magicians
Photo Gallery
Magic Links
Junior Magicians Club

Professor Higgins next public performances are scheduled for:

++ Friday, November 24th, at 5 pm. at the Broadmoor Hotel Main Theater in the East Building.

++ Saturday, December 2rd at 10:30 am, he will perform a public show in the Courtroom of the Colorado Springs Pioneer's Museum as part of the Festival of Lights. Please see the Event Website: for more information.

Watch this page for posting of future Public Events.


In addition to performing many private shows each month, Professor Higgins has been seen performing miracles tableside around town at Restaurants including Dos Hombres, Ruby Tuesday, and La Hacienda Restaurants, and occasionally at Texas Roadhouse and Ruby's Diner while substituting for the house magicians. Currently, due to other committments, he is not performing at any local resturants on a regular basis.

He also performs at the major holiday extravaganzas at the Broadmoor Hotel.