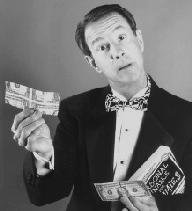 Home
Magical Services
Magic for Children and Adults
Clients
Quotes
Public Appearances
Magic Products for Magicians
Photo Gallery
Magic Links
Junior Magicians Club
MAGICAL SERVICES - TYPES OF ENTERTAINMENT

WHAT CAN PROFESSOR HIGGINS DO FOR YOU?

Cabaret or Stage Show: For large and medium sized groups. Great for Holiday Parties, Banquets, Sales Meetings, Employee motivation and "all hands" gatherings. For groups of 10 to 1000 people together for business or pleasure

Walk Around Magic: Magic up-close and personal for several people at a time. For example, at cocktail parties he strolls throughout the party where people are gathering in small groups around the room, working entirely with objects from his pockets or common everyday objects borrowed from your guests.

Magic Classes: Classes for youth and adults to learn basic magic through instructional sessions with serious magic students wanting to improve.

Shows are customized to meet the needs of the client and can be performed at banquets, parties, reunions, social events, church functions, intimate gatherings in private homes and business meetings. Rates vary with the options selected. All the magic is done without embarrassing the volunteers, and is tasteful and refined. On the day of the event, I will generally arrive approximately 30 minutes in advance to set-up.