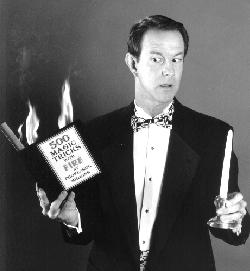 Home
Magical Services
Magic for Children and Adults
Clients
Quotes
Public Appearances
Magic Products for Magicians
Photo Gallery
Magic Links
Junior Magicians Club
Let

Master Magician Professor Higgins

help you create the perfect magical entertainment for your event. Looking for magical entertainment in

Colorado Springs; Colorado; or the United States, but are not sure what you need? Make your event unforgettable fun - Guaranteed! His unique magic provides the foundation for unforgettable and amazingly successful events! Magic for 5 to 5000, Children and Adults, ages 4 to 104, he has had thousands of smiling clients!

INTROUCTION
Professor Higgins, AKA Dick Bowman, is an award winning performer who has been performing professionally for over 35 years, with performances on three continents and over 30 States in the USA. In addition to performing, he is an author, inventor, teacher and publisher of magic. He is the National President of The Society of American Magicians, and has performed at Hollywood's famous Magic Castle. He was selected to the "Order of Merlin - Excalibur" by the International Brotherhood of Magicians for his long term commitment to the Art of Magic. He is also an Adjunct Professor for Webster University Program of Graduate Studies. He is the preferred magician for children's events at the five star Broadmoor Hotel Resort.

Professor Higgins thoroughly entertains both Children and Adults. He specializes in magic for children including Birthday Parties, Schools, Cub Scout events, church activities and many more. His comedy-themed magic shows for adults at banquets, seminars, and cocktail parties will be THE next day water cooler discussion. Your child's birthday party will be THE buzz of the school and the neighborhood for weeks to come. To learn more about his shows and what different kinds of magical entertainment he offers, please see Magical Services and Magic for Families and Adults.

Please Click the links on the left to learn more about or view photos of Professor Higgins, view his scheduled public appearances, magic products he sells or want more information about becoming a magician.

| | |
| --- | --- |
| | |